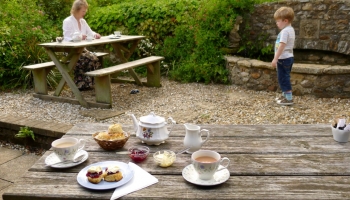 Relax and enjoy the fabulous surroundings and extensive views from our conservatory and tea room.
Coffee, snacks and light lunches are available from 10am to 4.30pm, served to your table by our friendly staff.
Delicious Devon cream teas featuring homemade scones are one of our specialties.
Locally made cakes and homemade soup complement our range of freshly made sandwiches.
Choose an unusual gift for a friend from our gift shop.
Many locally sourced items are available including jams, chutneys, birthday cards and our fantastic range of Garden Ironwork
Bird baths, tables and chairs and many other garden ornaments available to add to the atmosphere in your own garden.
We always have new items arriving from our carefully selected suppliers so that you can find the perfect items for your home and garden.
The nursery specialises in hardy plants.
Many of the special plants that you appreciate within the gardens are available to purchase.
A wide selection of shrubs and herbaceous plants can be found alongside some special bulbs and a range of alpines.
The nursery is open to garden and non-garden visitors alike from 1st April to the 31st October 10am – 5pm.
Our friendly staff will be delighted to help you and Mary can provide extensive knowledge to help you choose just the right plant.
Sitting Spiritually at Burrow Farm Gardens
Burrow Farm Gardens installed this beautiful bespoke swing seat made by Sitting Spiritually.
Placed near the entrance to the garden the seat has made a wonderful focal point across the lawn and is used by almost every single visitor!
Why not browse their website by following the link below