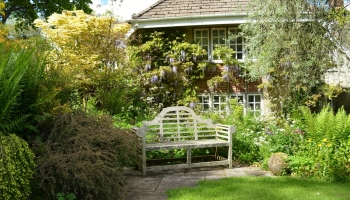 Pre booked groups of 10 or more can visit the garden at a discounted rate of £9pp.
Guided walks can be arranged around the garden conducted by the owner Mary Benger or her grandson Michael. A meeting room is also available which can accommodate 40 people for lectures etc.
We recomend a groups allow a minimum of 2 hours for visits (more if you are visiting the Tea Room).  Many of our visitors stay for 3-4 hours as it takes a while to get around 13 acres!
Tea and coffee, snacks, light lunches, cream teas and set lunches are all available in our Tea shop which can easily accommodate a coach full of people.
Many of our visitors like to enjoy one of our classic Devon Cream teas having walked around the garden before visiting the Nursery where they can purchase many of the plants found within the garden.
Please make arrangements for groups in advance by telephone or email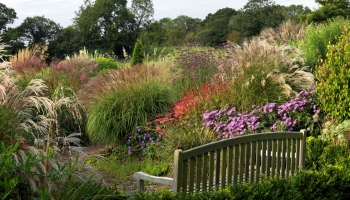 We can easily accomodate coach parties of all sizes making us the ideal attraction for gardening holidays, garden clubs or any other kind of coach that may just want a beautiful location to stop for refreshments.
We recieve coach parties from all over the world and have a large tea room offering light lunches and cream teas as well as tea, coffee and a selection of delicious cakes.
Please make arrangements for groups in advance by telephone or email
Horticulture Courses at Burrow Farm Gardens
From 2015 onwards Burrow Farm Gardens has become host to John Horsey Gardening and The History of Gardening courses.
John Horsey has over 45 years experience in the horticultural industry as both a commercial grower of specialist alpine plants and as a professional horticultural and environmental lecturer.
The courses aim to impart knowledge and skills in a comfortable environment, without the stress of conventional Examinations and Assessments. John works hard at creating a relaxed environment where you can gain information, make new friends and have an enjoyable day.
The courses involve trips to various gardens as well as many trips around the 13 acres of Burrow Farm Gardens.