Garden Ironwork Barn at Burrow Farm Gardens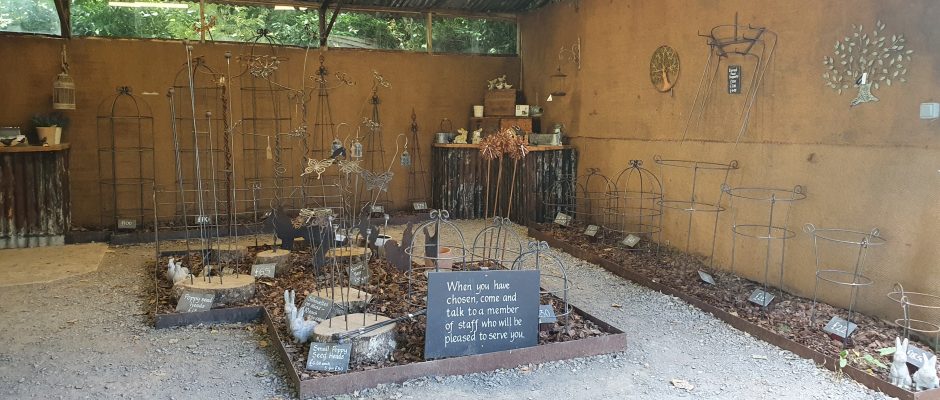 At Burrow Farm Gardens we sell a fantastic range of locally made Garden Ironwork.  From Plant Supports to Garden Sculptures we have a huge range that's growing all the time.
If you have a particularly large order or want to check on stock levels then please feel free to drop us an email before visiting.  Similarly, although we are shut from the 31st October to 1st April if you want any ironwork during that time just send us an email and we will be more than happy to arrange a time for you to drop by.
Delivery
Unfortunately we aren't able to offer delivery for our garden ironwork but it is all available to view and purchase from the gardens.
All of our iron work is sold untreated so will rust in time.  We sell it like this beacuse its the way we like it best, as the rusty colour looks great in the garden but if you do want to treat it at home they can be painted or sprayed with a clear lacquer if you want to keep them looking like they do now.
Scroll down to see some of the beautiful lines or Garden Ironwork we sell – just click on the images to view them full screen.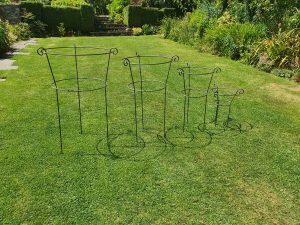 We use loads of these in the garden, best put on early before a plant starts to flop they add a wonderful structure to borders. All made to last from 8mm round metal.
Available in 4 sizes:
30cm x 50cm tall – £18.50
40cm x 75cm tall – £22
50cm x 90cm tall – £25
60cm x 1m tall – £26.50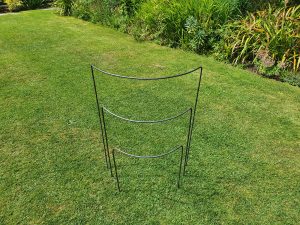 A must have for all gardens! These lightly curved supports are made from one piece of metal so theres no joints to break.  The 8mm round bar ensures they will last for ages and there no sharp edges to damage the plants its supporting.
Available in 3 sizes all made from 8mm round metal
40cm x 50cm tall – £6
50cm x 75cm tall – £7
60cm x 90cm tall – £7.50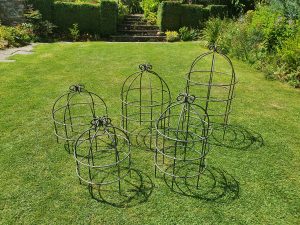 These Supports are great for things like roses and herbaceous clematis to climb through but in truth can support any plant or offer a bit of protection to more delicate plants.
Available in 40cm and 50cm diameters
40cm x 58cm – £30.00
40cm x 70cm – £35.00
50cm x 60cm – £35.00
50cm x 75cm – £40.00
50cm x 90cm – £45.00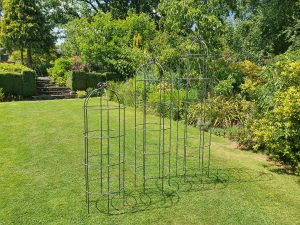 Made from 10mm and 8mm steel these rose cages are built to last. Beautifully crafted with the same ornate finish to the top as the Lobster Pots. They look great on their own but even better with a climber scrambling up them.
Available in 4 sizes:
50cm x 145cm – £100
50cm x 175cm – £110
50cm x 205cm – £120
50cm x 235cm – £130 (not kept in stock but can be ordered in)
Just the same as the larger Rose Cages but just a bit smaller.  These 40cm diameter Rose Cages are made from 8mm steel and are perfect for smaller gardens or just smaller spaces.  We have one of these by the entrance to the garden with a beautiful Clematis growing up it.
40cm x 120cm £75.00
40cm x 150cm £85.00
40cm x 180cm £95.00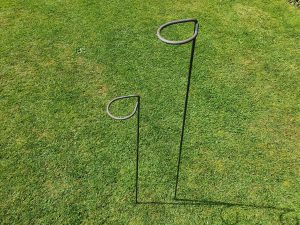 These loop supports are perfect for supporting single stems, using a simple yet effective design, these durable plant supports are made with solid 8mm steel bar to create a strong support for single stem plants
Available in two sizes:
Small – 90cm tall – £6 each or 3 for £15
Large – 1.2m tall – £6.50 or 3 for £17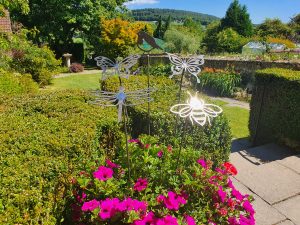 Available in 2 sizes with 60cm or 85cm sticks with bee, butterfly (two designs) and dragonfly tops which measure roughly 20cm across.
There is also a beautiful robin on a 60cm stick.
£10 each or 3 for £27.50, making them a great present for any wildlife lover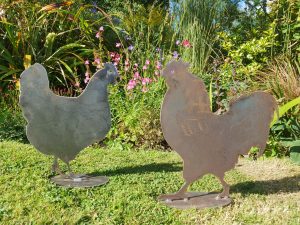 This Hen and Cockrell pair come with a spike and plate on the bottom and are made from 3mm thick steel.
Hens body 30cm x 30cm
Cockrell body 40cm x 35cm
£20 each or the pair for £35
To check stock levels or make an appointment to view our Garden Ironwork when we are closed in the winter please drop us an email by clicking below